High Resolution Photo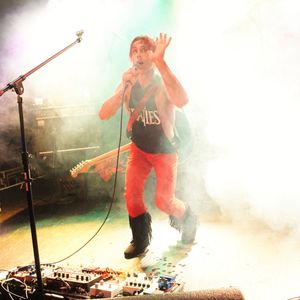 Jupiter In Velvet Biography
Jupiter In Velvet
BIOGRAPHY
Just when you thought music was getting a bit boring, along comes the galvanic Jupiter In Velvet to rearrange the past into an intriguing and exciting new musical horizon called 'Beautiful New Day', his 7th album which was recently released  to rave critical reviews.  Here's a couple of press quotes on Jupiter In Velvet's new LP 'Beautiful New Day':
"Beautiful New Day is the premier rock release of 2018" -  Kim Muncie - Neu Futur Magazine - Sept. 15th, 2018
"I really believe that you would be hard pressed to find a more complete album this year, of any genre, than you will in Beautiful                                                                                 New Day"    Mindy McCall - No Depression Blog - Sept. 14th, 2018
"There's a futuristic vibe to Beautiful New Day that gives off the strong impression that we're listening to something that is    ahead of its time"  Jodi Marxbury - Indie Band Guru - Sept. 15th, 2018
"Jupiter in Velvet has always possessed the capabilities of being a rock n' roll superstar, but at last his sound has come into its    own for everyone to appreciate equally"    Thomas Patton III - Skope Magazine - Sept. 15th, 2018
So who exactly is Jupiter In Velvet?  He's a rock musician and songwriter.  "A rock musician you say, I thought they were a dying breed?"  Not quite, in fact not even close.  Rock music is like the shape shifter in Terminator 2 and Jupiter In Velvet is one of its new evolutionary breed of aficionados.  You could say that Jupiter is a musical cross-dresser, a transgenre musician with extensive rock roots and a big sonic wardrobe to keep things interesting.  And to feed your curiosity even more, he writes very compelling, thought-provoking lyrics, looking at personal and social issues through the lens of spirituality. 
Jupiter In Velvet's music is an unusual mix of different time periods and rock styles.  One moment the song draws you in with a thread of familiarity and the next moment it surprises you with the unexpected.  Regaled by critics for his masterful songwriting, Jupiter is a bit of a song seamstress weaving together the musical history of our lives into a colorful new aural tapestry, connecting the past and present to create a new musical tangent.  Drawing on influences from Little Richard through the White Stripes, one can hear bits and pieces of Led Zepplin, Hendrix, Bowie, Beatles, U2, Nirvana, Velvet Revolver, Black Keys, Artic Monkeys, The Ramones, Prince and many more.   Among the labels the music press and bloggers have given his music include; 'Alt-Pop Psychedelic Rock', 'Electro Dance Rock' and 'Alt-Punk' to name a few.  But no matter how one tries to label Jupiter In Velvet, the label will never stick for his music is simply him and he is always evolving.
Jupiter In Velvet Wants You!